Spectrum Center | Charlotte, North Carolina
Get ready for ignition as your favorite monster trucks prepare to rumble at Monster Jam happening at Spectrum Center on Sunday, 17th of July 2022. Your favorite adrenaline-rushing motorsport event featuring monster trucks manned by world-class athletes is back on track! Witness 12-thousand pound trucks go head-to-head, with a goal of snatching spots for the much-awaited return of the Monster Jam World Finals – where champions across the Monster Jam series take on a championship. Catch your favorite trucks Grave Digger, Megalodon, El Toro Loco, and many more roar their engines live at Monster Jam. Book your tickets now!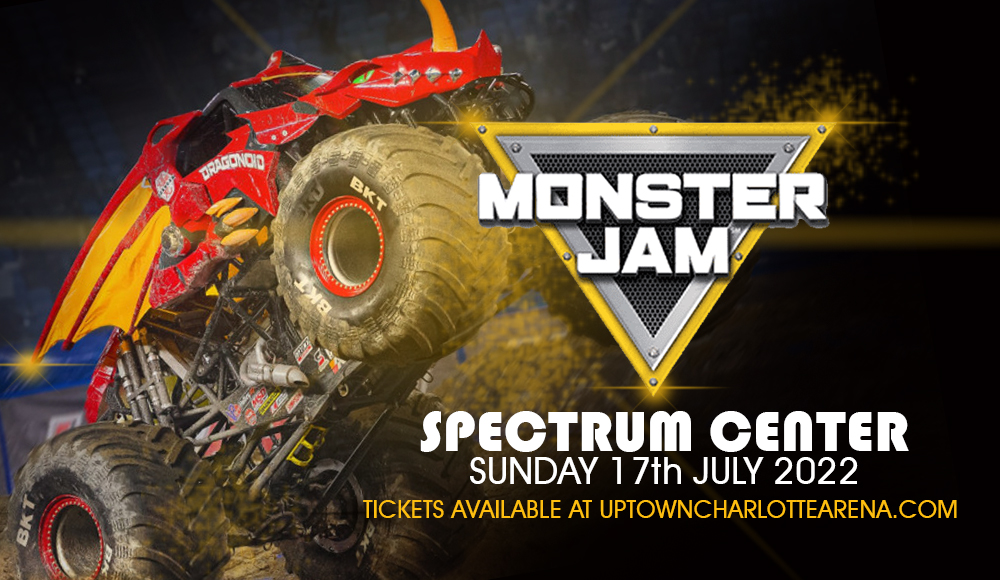 Since 1992, Monster Jam has been making engines roar, putting on full-throttle shows and competitions. Participating trucks go through three stages as they attempt to score a spot at the world finals. The main competitions are racing, two-wheel skills, and freestyle. Aside from the main exhibitions, trucks may also go through competitions like "donut" where the truck spins till it gives up, speedster racing, ATV racing, and obstacle courses.
The action-packed series amassed worldwide attention. Events have been staged in other parts of the earth including Europe, Saudi Arabia, Singapore, the Philippines, and Japan.
With the soaring popularity of the Monster Jam series amassed globally, the franchise expanded to video games featuring its popular trucks. Toys were also made by Hot Wheels and Spin Master.
Year 2000 marked the start of the much-awaited World Finals held each year in Las Vegas. Though, the global pandemic put the breaks on the yearly run. As 2022 allowed engines to ignite back on the stage, trucks are on full-throttle for their big comeback.
Catch your favorite trucks including Alien Invasion, Earthshaker, Max-D, Grave Digger, and so much more fight and ruble in action-packed competitions at Monster Jam. Get ready to shift those gears and speed into Monster Jam by grabbing your tickets now!