Spectrum Center | Charlotte, North Carolina
Three years since her last tour, it's 'about damn time that Lizzo comes back on a tour! The "Good as Hell" queen star is finally back to conquer the stage at Spectrum Center on Thursday, 20th of October 2022 for her brand new "Special Tour" with American rapper Latto. Set to drop her newest studio record "Special" this coming July 15th, big and special surprises are in store as Lizzo conquers the new era, meeting her fans and performing fresh new bops at the Special Tour. Book those special tickets now!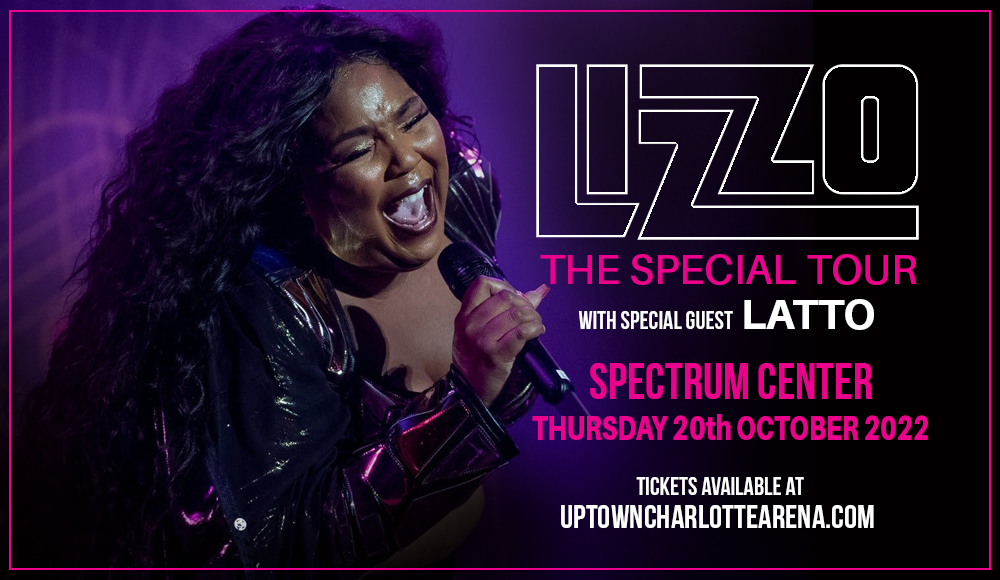 With "Special" coming right around the corner, Lizzo broke into the mainstream scene when her sleeper hit single "Truth Hurts" became a global viral hit. Singing "I just took a DNA test, turns out I'm 100% that bitch", she's definitely the queen of 'bangers throughout her career.
With roots in Houston rap, gospel soul, and classical flute, Lizzo's career is indeed a special journey. She moved to Minneapolis after her father's death, taking her shot for a career in music at 21. 2013 marked the start of her bangers with the release of Lizzo's debut album "Lizzobangers". The hip-hop-induced record was praised by The Guardian saying "At times joyfully nonsensical, Lizzo's stream-of-consciousness rhymes can also be lethally pointed." giving the album four out of five stars.
With grit that tackles body positivity, sexuality, and race, Lizzo's music is more than just whimsical rhymes. Lizzo's craft never fails to induce her power as a woman, and her influence through lyrics of depth. Her second album "Big Grrrl Small World" features her song "My Skin", which she describes as "the thesis statement" of her album. Lizzo told Vice, "You can wake up and change many things about your appearance, but the inevitability of waking up in your skin is what unifies us."
"Big Grrrl Small World" was placed in Spin's "50 Best Hip-Hop Albums of 2015", ranking at #17.
Hilary Saunders of Paste magazine, in a review of Lizzo's sophomore album, expressed that "Hip hop needs a strong female voice today—one that matches the pop magnetism of Beyoncé, but with the political and social awareness of Killer Mike. With Big GRRRL Small World, Lizzo seems primed and ready to fill that spot."
Set on a mission, Lizzo continued to drop her bangers that deliver powerful messages to listeners, driven by her astounding lyrical ability. She released an EP "Coconut Oil" in 2016, her first major-label EP, featuring her sleeper hit "Good as Hell" which would later hit #3 on the US Hot 100 in 2019 along with a version featuring Ariana Grande.
2019, with the release of her third album "Cuz I Love You", marked her breakthrough. The album charted at #4 on the Billboard 200, and her 2017 single "Truth Hurts" found itself to be a viral sleeper hit, charting at #1 and awarded 7x Platinum by the RIAA with its re-release. The track became viral on Tik Tok.
Lizzo's notable tracks that made waves across the globe include "Juice", "Tempo", "Good as Hell", and "Truth Hurts".
In 2021, Lizzo released a new single "Rumors", announcing the start of a "new era". She said that her upcoming album would be "one of the most musically badass, daring and sophisticated bodies of work I've done to date."
In April of 2022, Lizzo dropped "About Damn Time", along with the name reveal of her upcoming album "Special". Lizzo's new album is scheduled to hit the airwaves on July 15th.
As she makes her big comeback on the Special Tour, Lizzo tweeted "3 years since my last tour… and I'm finally coming back to YOU!"
Don't miss out on Lizzo's 'special new era by saving your spot at the Special Tour stopping by at Spectrum Center on October 20th. Book your tickets now!