Spectrum Center | Charlotte, North Carolina
If you've been feeling 'stressed out, the time to cool down is coming your way as Twenty One Pilots embark on the 'Icy Tour', cooling the stage at Spectrum Center on Sunday, 4th of September, 2022, as fans heat the energy up to the duo's new tracks and biggest hits including "Shy Away", "Heathens", and "Stressed Out". Twenty One Pilots just dropped a video for their newest single "The Outside" which is "a story about cycles, and trying to break them" says the duo. As 2022 marked the return of live concerts across the country, Twenty One Pilots is asking you to come to 'the outside, cool down, and heat up the stage at Spectrum Center as you sing along to their new music and biggest anthems with the crowd. Book your tickets now!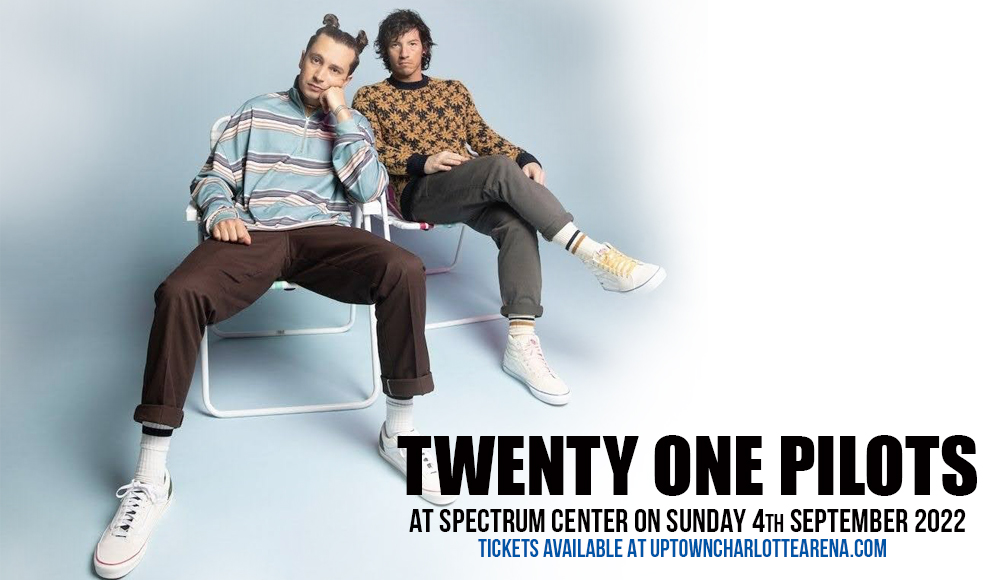 The Grammy Award-winning duo started as a humble band hailing from Ohio in 2009, competing in local 'battle of the bands' contests, and uploading covers and remixed interpretations of songs in SoundCloud by 2010. From a band of three, two members parted ways to focus on school and work in 2011, with former drummer Chris Salih inviting his co-worker, Josh Dun, to take his place. From then on the duo – Tyler Joseph and Josh Dun began to take the world by storm.
The duo signed with Fueled by Ramen in 2012, releasing their debut EP, Three Songs, then touring with Neon Trees and Walk the Moon. By 2013, they dropped "Vessel", their third album after their self-titled debut and 2011's "Regional at Best" – with five tracks re-recorded for their major label release. "Vessel" which featured hit singles "Holding on to You", "House of Gold", and "Car Radio", hit #21 on the charts, and is now awarded 2x Platinum by the RIAA.
With a good start, Twenty One Pilots found their massive international breakthrough success with their fourth record, "Blurryface" hitting #1 on the US Billboard 200. The album served the duo's biggest hits including "Tear in My Heart", "Ride", "Lane Boy", and the RIAA Diamond-awarded "Stressed Out". The 9x Platinum-awarded single "Heathens" was released for the soundtrack of the global hit film "Suicide Squad".
After making massive waves across the globe, the duo followed it up with 2018's "Trench", peaking at #2, featuring notable hits "My Blood" and "Chlorine".
By 2021, Tyler and Josh dropped Twenty One Pilot's newest album "Scaled and Icy", a record that exudes ambition with the duo's signature emotional and raw character to their songs. The album features its singles "Shy Away", "Choker", "Saturday", and "The Outside".
Last March 18th of this year, the duo dropped its video for "The Outside" saying "this is a story about cycles, and trying to break them. About discerning between external and internal attacks, and about balance. A balance between being saved by a friend, and saving yourself."
It's been a wild ride of taking the world by storm with hit after hits for Twenty One Pilots. After creating music remotely during the pandemic, the duo is set to bring tracks from "Scaled and Icy" to the stage, along with their biggest hits over the last decade. It's time to cool down, head to 'the outside, and get the stress out. Book your tickets now!