Spectrum Center | Charlotte, North Carolina
One of the hottest Korean boy groups on the K-wave is coming over to the US as part of their newest world tour. TOMORROW X TOGETHER, commonly known as TXT is soaring across the world for ACT: SWEET MIRAGE World Tour. Following their big comeback with "The Name Chapter: TEMPTATION", TXT is set to go on a "Sugar Rush Ride" as they grace through global domination this 2023. With astounding visuals, alluring voices, and amazing choreography, TXT won the hearts of MOAs around the globe. Catch them perform live at Spectrum Center on Saturday, 6th of May 2023. Book your tickets now!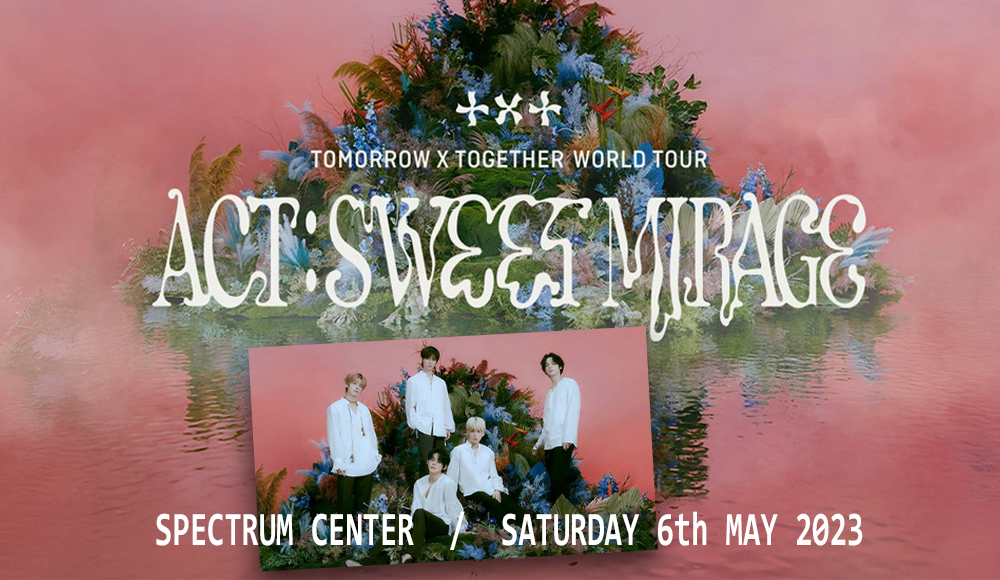 The 'good boys gone bad are set for global domination as they embark on the ACTL SWEET MIRAGE World Tour across Asia and the US. The tour announcement follows the release of their new mini-album "The Name Chapter: TEMPTATION". The new record features their new hit single "Sugar Rush Ride". Kicking the year off with a new record and a world tour, TXT is set to dominate the scene for its dynamic performances and astounding beats.
In a press conference prior to the release of "The Name Chapter: TEMPTATION", the group shared their commitment to take their music's reach even further, aiming to hit #1 on the Billboard 200.
"Because of the pandemic, we could not do much before. We could meet with MOAs for quite a while. There were times when we questioned ourselves if we were doing okay as artists," Hueningkai shared. "But last year, we really spent time like an artist. We had our long-awaited offline concert and world tour. We are going to work harder to make 2023 the year of TXT. "
Soobin shared that their new album tells tales of youth being challenged amidst temptations, expressing the struggles of adulthood and freedom. "It's about these boys becoming stronger and achieving growth as they overcome these temptations." said Soobin.
With big dreams and an extremely supportive fanbase, the future is bright for TXT as they continue navigating growth, determination, and maturity, taking ambition and hope with them.
Known for their high-energy performances and relatable songs, TXT dropped a slew of hits since their debut in 2019. Their biggest hits and fan favorites include "Crown", "9 and Three Quarters (Run Away)", "Drama", "Blue Hour", "Love Sight", "0x1=Lovesong (I Know I Love You)", and their 2x Platinum RIAJ hit single "Good Boy Gone Bad".
Hailed as game-changers in the scene, TXT playfully navigates obstacles and pains of growing up, whilst emphasizing growth and determination to reach their goals along the way.
Don't miss out on ACT: SWEET MIRAGE led by the one and only TOMORROW X TOGETHER by booking your tickets now!