Spectrum Center | Charlotte, North Carolina
Lights are set to shine to their brightest on the stage at Spectrum Center as your favorite Grammy-nominated folk-rock band, The Lumineers is coming over on Saturday, 27th of August 2022, bringing along special guests Gregory Alan Isakov and Daniel Rodriguez on their Brightside World Tour. The band greeted 2022 with their newest album, Brightside, and a world tour to serve fans live renditions of fresh new songs and their biggest hits. New singles off of Brightside include "Where We Are", "Big Shot", "A.M. Radio", and "Brightside". It's time to chant 'ho! hey! as The Lumineers are back on the stage, set to perform their biggest hits including "Ophelia", "Stubborn Love", and "Ho Hey", and new songs from Brightside as the lights start flashing on stage. Book those tickets now!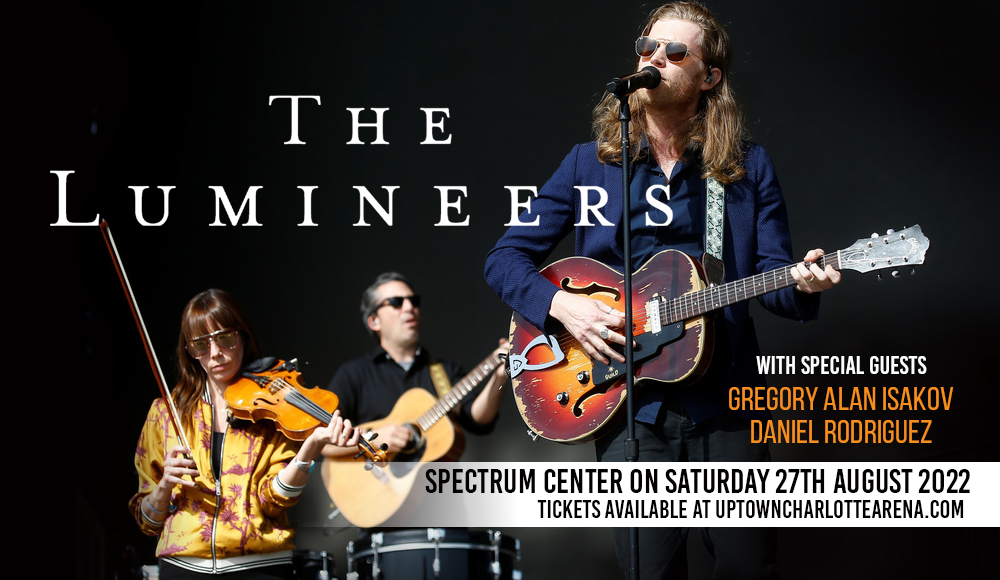 The Lumineers began as a humble collaboration between Wesley Schultz and Jeremiah Fraites writing songs and playing gigs around NYC. "When Wes and I got together, our first band name was Free Beer…" said Fraites. From a casual not-so-serious project, the duo started seriously writing originals and experimenting across genres. From "Free Beer" and other names in their gigs, the band found its identity as "The Lumineers" when an emcee mistakenly introduced the duo as the 'Lumineers', a band that was supposed to play in the club.
By 2009, the duo made a decision to move to Denver and joined its thriving open mic scene. In 2011, "Ho Hey", which would be the band's successful debut single, was used in CW's Hart of Dixie which stirred buzz on social media. A radio DJ found the single in a pile of CDs, then played the track twice in a row for a week, calling it 'the best song of 2012'.
Their self-titled debut record was finally released in 2012, featuring the RIAA Platinum-awarded lead single "Ho Hey", peaking at #3 on the Hot 100 charts. Their debut album is awarded 3x Platinum by the RIAA, selling over 1.7M copies in the US. By the end of the year, The Lumineers was nominated in the Grammy Awards for Best New Artist and Best Americana Album.
From then on, The Lumineers took the world by storm. Their best succeeding singles include "Stubborn Love", "Ophelia", "Angela", "Cleopatra", and "Brightside" among others.
As their fourth studio record, "Brightside" exudes the band's growth. Despite uncertainties faced, The Lumineers tells listeners to take off and hope for brighter days ahead. "I'll be your brightside, baby, tonight" the band sings.
They'll surely be 'your brightside as they light up the stage at Spectrum Center. Catch them perform new songs and their biggest hits live together as the crowd sings and chants your favorite anthems. Book those tickets now!