Spectrum Center | Charlotte, North Carolina
Looking forward to seeing your favorite Dudes from YouTube in a day full of exciting games, fun live interactions, outlandish stereotypes, and competitive battles? Well, better mark your calendars and head to Spectrum Center this Sunday, June 26, 2022, to experience one of the most epic, if not PERFECT, summers millions of others could only wish for. Join Coby, Cory, Garrett, Cody, and Tyler in their North Carolina stop for their "That's Happy Summer Tour 2022." Scream along with thousands of spectators as you cheer for the Dudes' crazy stunts, competitive battles, funny and embarrassing stories, outlandish stereotypes, and some of their most popular segments we all love from their YouTube Channel. Secure your tickets now and bring your friends and family because you don't want to miss this highly-anticipated event.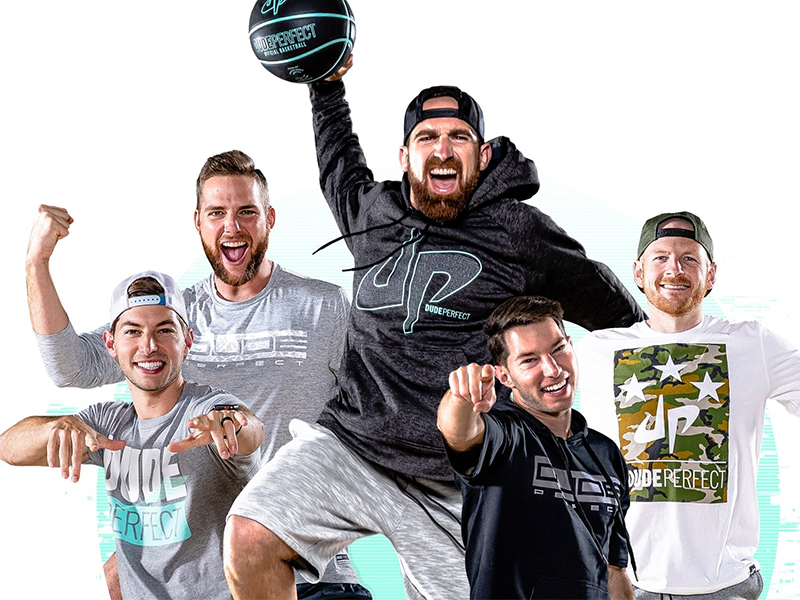 The overwhelming success of Dude Perfect's first sold-out tour in 2019 proved that the boys' antics can transcend beyond our YouTube screens. The cross-over from the video-sharing site to arenas is something monumental. Only a few can do it. After all, entertaining a crowd live is no joke. But not if you are the guys from Dude Perfect. With a massive 57 million followers (and counting), they are masters of entertainment.
Tyler (aka Beard), Coby (aka Twin #1), Cory (aka Twin #2), Cody (aka Tall Guy), and Garrett (aka Purple Hoser) know how to light up a crowd with their tricks, candidness, and hilarity. And now the trick shot masters are back on the road to give their fans a happy summer experience they will never forget.
"It was so great hitting the road again this past year after everything that has happened," said Coby Cotton. "We're having fun, the audience is happy and having fun, and those live interactions fuel us to keep creating better shows. This tour will continue with new competitions, more comedy, and even more excitement than what you see on our YouTube channel. Our hope is that the That's Happy Tour will be one of your favorite summer memories."
The Dudes' stop at Spectrum Center, Charlotte, North Carolina, is expected to be packed with fans who, like most YouTube followers, are eager to see the boys compete in fun games and engage in hilarious comedies. What's more exciting is that many exciting things await VIP ticket holders. These include the chance to ask burning questions and get an awesome photo with the Dudes and receive an exclusive merchandise pack that contains limited edition autographed tour prints and tote bags.
These and many more surprises await you and the whole family, so make sure to book tickets now and prepare for one of the happiest summers you'll experience.